Posted:
October 19th, 2009 |
Author:
Knot
|
Filed under:
I ♥ moozik
|
Comments Off
Tonight is a band outing for The Untied Knot – me and Matt hop a 91 bus for the long crawl to the nether regions of Crouch End in search of a fix of what the NME once described as a "one-man Love Unlimited Orchestra". The gig is billed as Liam Hayes and Plush which is the official new moniker for 2009′s "Bright Penny" album.  Starting as we (it turns out) mean to go on we commandeer the 2 best seats in the venue, front and centre to the obvious dismay of the too-polite punters behind us. Not terribly English I'm afraid but that's several ales and a one hour bus journey for yas, if you're reading guys – sorry… Barring this unforgivable faux-pas, we settle in on our best behaviour as Liam lifts on his Fender Telecaster for the first number.  It appears the two Fender Rhodes and upright piano will remain untouched but just before a sense of mild disappointment sets in for both of us, the guitar is discarded for the second song and Mr Hayes is joined by his new right-hand man on duelling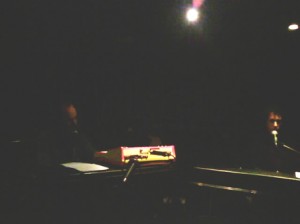 Fender Rhodes and synth bass – Mr Jimmy Rowland. I say "mild disappointment" as I would have been more than happy with a solo electric guitar set just like the brilliant one we witnessed at The Luminaire 12 months ago but finer still it is to witness my 4th variant on the Plush live sound since 1998.
Certain people talk about "outsider artists" but Liam Hayes and his music seems to exist in a timeless bubble somewhere on the outskirts of the music scene, untouched by any trends or concessions to the present millennium. Read the rest of this entry »
---