Our crowd-funding project on PledgeMusic has launched.
Please go here to pre-order "Description of a Flame" on double-vinyl and CD. Numbers of physical editions are strictly limited.
Many thanks, Nigel & Matt. 
Mixing continues for our new double album, "Description of a Flame". Last week we paid a visit to Sydenham Woods with photographer Robin Prime.
On 8th July 2014 we improvised a live soundtrack to an experimental film by Robin Prime at Sonic Imperfections, an experimental music night at The Montague Arms in London SE15. This is a short extract.
An amazing three days in Birmingham rehearsing and performing in Rhys Chatham's "A Secret Rose". The performance at Birmingham Town Hall on 7th June 2014 was a resounding success.
You can read my full account here on The Broca Ensemble site
Photos by Inès Elsa and @thirdearmusic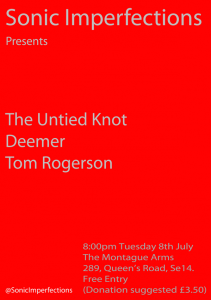 We will be playing at The Montague Arms, 289 Queens Road, London SE15 2PA on Tuesday July 8th as part of the second monthly Sonic Imperfections night. Onstage 21.30.
Also on the bill, the enigmatic sax, percussion, electronics duo Deemer and Tom Rogerson of math/prog adventurers Three Trapped Tigers with a set of live electronics.
We are excited to announce that Nigel will be one of the guitarists performing Rhys Chatham's "A Secret Rose" at Birmingham Town Hall on Saturday, 7th June 2014.
"A Secret Rose" is a piece for 100 electric guitars accompanied by live projections in the magnificent setting of Birmingham's Town Hall.
Rhys Chatham is a composer, guitarist and trumpet player who altered the DNA of rock by fusing the overtone drenched minimalism of the early 60s with the relentless, elemental fury of the Ramones — the textural intricacies of the avant-garde colliding with the visceral punch of electric guitar-slinging punk rock.
He has worked with many of the key figures of minimalism and experimental rock including Philip Glass, Steve Reich, La Monte Young, Tony Conrad, Glenn Branca, Fred Frith, Robert Fripp, Arto Lindsay and Thurston Moore.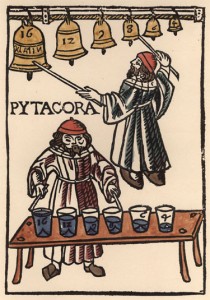 We have been recording since the start of 2014 with a view to getting a new album out this year. Sessions have mostly taken place at home but we will also be spending some time in a London recording studio in the very near future. More updates will follow…
Our next live appearance will be the  Sonic Imperfections night at The Montague Arms, 289 Queens Road, London SE15 2PA on July 8th. Full details shortly.