Berwick St, Soho, London Saturday 21st May 2011 – street market taken over by some of the UK's most prestigious indie labels: Rough Trade, Heavenly, Peace Frog, Moshi Moshi, Domino, Mute, R&S, Wall Of Sound, Soul Jazz, Bella Union and XL.
The plan was simple – grab a box of our CDs, some promotional signs constructed by Matt and a set of headphones/MP3 player containing the whole of "Sketches for A Lost Summer" then proceed to location and set up our own super-independent market stall. What could go wrong?
Well, as it transpired, nothing! We found a prime location at the entrance to the market right next to the Rough Trade stall, set out our wares and the rest was a breeze…
It was a beautiful sunny day so the crowds were out in force and we had soon attracted the attention of the punters, most people who stopped to listen and have a chat bought a copy of the CD so a big thanks to all of you who did so.
Fairly early on I spied a familiar face and personal musical hero in the shape of Lawrence of Felt/Denim/Go Kart Mozart so I called him over for a chat about his impending new album and gave him a copy of our CD. Just like everybody else, he was happy to hang around,  have a chinwag and take an interest in what we were doing which was most gratifying.
Our choice of setting up next to Rough Trade's stall proved to be a particularly wise move as around lunchtime Jarvis Cocker turned up to DJ right behind us. This was an exciting moment for Matt and I as we're both big fans but the resulting photo/video frenzy also caught us in the heart of the action. Jarvis is always a high-profile supporter of independent events like this and posed for literally hundreds of photos with no sign of complaint – good on him!
A little later on, I came back with some lunch to find Matt chatting away with Geoff Travis, founder of Rough Trade who had taken an interest in our guerilla stall and left a while later with a copy of our CD.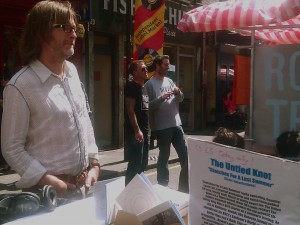 This event was representative of the whole day – the enthusiasm of genuine music fans, the great weather and the proximity of The Blue Posts (Soho's last real boozer) all contributed to the positive atmosphere of what really was a great celebration of the UK's independent music scene; so much better than the disappointment (for me) which was Record Store Day in Soho just over a month ago.
So once again, a big thank you to everybody who stopped by to have a chat, listen and/or buy a CD and also to Nina and Ross for coming down to help out on the stall – see you all next time!