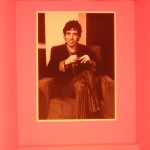 No, it's not a comic strip from Viz, it's a real life exhibition of stuff – books, magazines, clothes, instruments, posters etc. from Mick Jones' personal collection.
Imagine The Clash/BAD/Carbon Silicon guitarist/front-man went on holiday and asked you to house-sit for him. Well, this is what it would be like – free to root around in his vast collection of music mags, poke about at his samplers, drum machines and synths, sit down and watch his videos, go through his wardrobes and nose around in his office.
You can pick up anything – read it, watch it, touch it, whatever…
This article is from 2009 but the Rock n' Roll Public Library does make an occasional re-appearance, more info here.